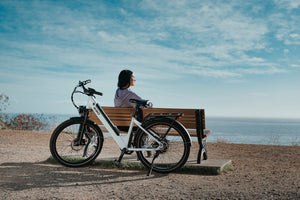 Contrary to popular belief, buying an electric bike is not at all similar to buying a new toy you or your kids can play with. Electric bikes are an innovative gadget that is useful for improving your lifestyle, your health, and is friendly to the environment. In other words, it's an investment.
Here are the top ten considerations before buying an electric bike.
Top 1: Determine what you want and need.
Electric bikes are intended for specific people and purposes. It is entirely up to you to decide which features are most important to you. Understanding your own needs will help you choose the best electric bike features. 
Top 2: Choose the brand wisely.
You should also go to a bike shop if you want to buy an electric bicycle. You should think about a store's atmosphere, commitment, and quality. Because of the shop's dedication to the electric bicycle movement, it will gladly assist you in using your electric bike for many years to come. The term "quality" also refers to the bicycles sold by the retailer. You want to make sure that your retailer isn't just looking to make a buck. 
Top 3: Test a varied range of bikes.
Prior to purchasing an electric bike, it is critical to test ride one. It allows you to set aside technical specifications, reviews, while also reaching a conclusion for yourself. 
Top 4: Set high standards.
Electric bikes are a newer mode of transportation that is dependable, powerful, useful, and fun to ride. An electric bike has the potential to completely change your life. However, not all electric bikes are created equal. Many of the electric bicycles on the market are far from modern, high-quality machines. You owe it to yourself as a customer to set high standards and demand the best. 
Top 5: Inquire about warranties.
Buying an electric bike, whether it costs $1500 or $100,000, is not cheap. A warranty safeguards your investment. Most electric bike manufacturers offer a two-year warranty on the bike's components, motor, and battery (no exclusions for normal use). 
Top 6: Don't feed into the hype.
Trust your intuition above the numerous options and points of view. Remember, only a few reputable organizations certify and review electric bikes. Steer clear of unidentified brands with scant information. 
Top 7: Think long-term.
Your bike should last five to ten years with proper maintenance, and your battery should last 600 to 800 full charge cycles. The retailer should be able to recycle or rebuild the battery if it needs to be replaced. 
Top 8: Service is as important as quality. 
The quality of the bicycle itself is critical, regardless of the drive system, especially if you intend to ride it on a daily basis. If nothing else is specified in the parts list, it is most likely a motor or battery. If your electric bike is not properly set up and tuned, the quality of the components is meaningless. Your local bike shop can help you maintain your high-quality components. 
Top 9: Location matters.
If at all possible, buy locally and nearby your home or work. Even if your purchase goes as smoothly as possible, you will have questions about your bike and, in the worst-case scenario, problems, which is why you should be within 50 miles of your purchase location.
Top 10: The price tells you everything.
The adage "you get what you pay for" applies to everything. While quality parts and dependable brands can be pricey, the good news is that an e-bike quickly pays for itself.
Conclusion
There's no doubt that zeroing in on the right electric bike for you (or a loved one) can be a daunting task, especially if you don't have the time to consider the options and the kind of assistance you need. Fortunately, all this information can help you find the electric bike that is the best for you. Keep this list in mind as you get started and make your final decision!
Are you looking for an electric commuter bike? Coast Bike Co. is here to transform the way you travel and commute. We've got e e-bikes for every occasion and for every individual. Now, your problems with hills, traffic, and parking are finally resolved! Shop our collection today!