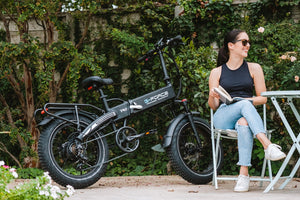 The electric bike is the perfect gift for almost any occasion. Whether it's a birthday, graduation, or any other special occasion, an electric bike is a great way to show your appreciation and love. Not only are electric bikes great for getting around, but they are also incredibly fun to ride and make for an enjoyable experience for both the recipient and the giver. Let's explore the reasons electric bikes are an excellent gift today: 
They are Cost-Efficient
Electric bikes are an inexpensive way to get around, as they require no fuel and have minimal maintenance costs. They are also more affordable than traditional vehicles, making them a great gift option for those on a budget.
They are Eco-Friendly
Electric bikes are a great way to reduce your environmental footprint, as they produce no emissions and use no fuel. They are also incredibly efficient, meaning you can get more mileage out of your battery than with a traditional vehicle.
They are Convenient
A great feature of electric bikes is their ease of use. They can be ridden with minimal effort, and you can even fold them up for easy storage. This makes them an ideal gift for those who live in cities or other congested areas, as they can easily be carried on public transportation or stored in a small space.
They are Fun to Ride
Electric bikes are enjoyable, as they provide a unique experience that traditional vehicles can't offer. With powerful motors and a smooth ride, electric bikes make for a pleasant experience for both the recipient and the giver.
They are Simple To Use
Electric bikes are straightforward to use, requiring minimal setup and maintenance. You don't need to worry about complicated parts or pieces; they typically come with a user-friendly manual. This makes them an ideal gift for those new to bike riding or those who need more time to maintain a traditional bike.
They are Easy to Store
Electric bikes are incredibly easy to store, as they can be folded up and stored in a small space. This makes them an ideal gift for those who live in apartments or other small areas where traditional vehicles can't fit.
They are Versatile
Electric bikes are incredibly versatile, as they can be used for various activities. Whether you're looking for an efficient way to commute to work or a fun way to explore the outdoors, electric bikes can be used for almost any purpose.
Features to Look For in an Electric Bike
Battery Range:

Range is one of the most important aspects when buying an electric bike. You'll need to consider how far you plan to ride and what terrain you'll be covering to determine the right battery range for you. 

Motor Power:

Motor power is an important factor when buying an electric bike. Look for a powerful motor to get you up hills and through rough terrain.

Control Options:

Electric bikes come with various control options, such as twist-grip throttles, thumb throttles, and pedal-assist systems. Consider what type of control you prefer and find a bike that offers it.

Comfort:

Comfort is key when it comes to electric bikes. Look for adjustable handlebars, cushioned saddles, and suspension systems to ensure a comfortable ride.

Price:

Price is always a factor when buying an electric bike. Look for a bike that provides the features you need at a price that fits your budget.
The Bottomline
Electric bikes are the perfect gift for those looking for a convenient, fun, and eco-friendly way to get around. They offer the versatility of a motorized vehicle with the ease of a traditional bike. They're also great for those who don't have access to public transportation or those looking to stay fit and active while getting around. 
An electric bike will save you time, money, and energy while providing a safe and enjoyable ride. So, if you're looking for the perfect gift for a loved one, look no further than an electric bike.
Are you looking for the best electric bikes today? Coast Bike Co. carries e-bikes from the top brands. Shop now.