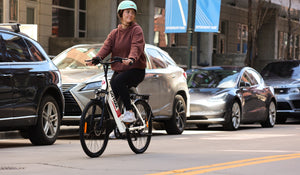 Electric bikes sell due to their convenience and goal to save the environment from pollution. However, pairing them with foldability makes them better and more practical than ever. But aside from the benefits of a standard e-bike, how does it differ from its folding variant? Here are some reasons consumers should buy a folding e-bike instead of a conventional commuter electric bike.
1. Takes Up Less Storage Space 
Aside from being convenient, folding electric bikes also tend to take up less storage space due to their lightweight design, making them more efficient to carry around. Some users do not have enough storage space to keep their regular e-bike at home, causing quite the problem, especially when they want to go somewhere besides riding their e-bike while at home. A folding e-bike is also perfect for when they are out of the house, making it easier to bring around everywhere they go. It is also ideal for bringing your e-bike in your car. 
2. Does Not Require a Massive Parking Space 
Some e-bike users do not have enough space to park their e-bikes at home, or sometimes parking in public areas such as highways and roads is not allowed. However, using a folding e-bike can solve this problem for these users since it does not require much space. They can be stored inside houses or offices, and if you want to bring them with you when you go out, you can just keep them in any available space in your car. 
Unlike a conventional e-bike, a folding e-bike does not need a massive space for parking. It can easily fold and store anywhere. It does not require a particular area like the traditional e-bike since it can be folded and placed in places where there is not enough space to keep it in, making it easier to bring around, especially when you don't have a lot of space in your home. 
3. Perfect for Public Transportation 
More and more people are riding public transportation as it is convenient and affordable. However, riding a regular commuter electric bike for public transport can be a hassle for users. That is why folding electric bikes are better than the standard commuter electric bikes, making it more practical to ride on public transportation. 
4. Perfect for Shorter People 
Folding e-bikes are better for shorter people, making it safer for them to ride around. The feature is essential, especially for women, as some e-bike models tend to be made for taller people. However, folding electric bikes are designed specifically for shorter people, making them cost-efficient and easy to use.
5. Cost-Effective Solution
Although folding electric bikes tend to be a bit pricier than usual, they are the perfect solution for those with little space in their home and minimal storage space. Most folding e-bikes are equipped with the same functionalities as a regular commuter electric bike or even more, making it more cost-effective for users to buy and use.
Conclusion
Folding electric bikes are more convenient and practical than standard e-bikes as they can be used for more than just commuting to work or school. It is also a cost-effective solution for those with minimal space in their home or office. These features make folding electric bikes stand out from the other electric bikes, making them a better alternative to a regular e-bike.
Coast Bike Co. offers e-bikes and electric scooters for the great outdoors. Our goal is to provide every consumer with a reliable
commuter electric bike
that they can use to travel, unwind, or relax without worrying about the environment. Join the change today and purchase your first e-bike now.