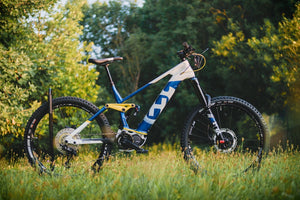 Bicycle insurance covers you for theft and accidental damage to your bike. It can also cover you for any personal injury you have because of a road traffic accident. If you have an e-bike, it's important to note that most bike insurance providers will not cover you for damage to your e-bike if it's not securely stored or if it is taken away by someone other than you. (For more on this, see our article on storing your e-bike).
Bike insurance isn't just for the more expensive bikes, either. If you have a foldable e-bike, you're probably more likely to take it out when you're not at home, which means it runs the risk of being stolen. As the price of e-bikes is generally relatively high, taking out insurance from the get-go could be very beneficial.
Today, let's take a closer look at bike insurance and some reasons why you should get it for your e-bike. Here's what you need to know:
Protect Against Theft and Damage
Damage caused by accidents is covered by bike insurance, as is theft. If your bicycle is stolen or damaged, you might be able to claim the cost of repair or replacement, depending on the circumstances.
Bike insurance can also cover you for any personal injury you have because of a road traffic accident. Depending on the circumstances, you may be able to claim a replacement bicycle. Make sure you add bicycle insurance to your quote to see how much you could save.
If you've taken out bicycle insurance, check your policy carefully to ensure your e-bike is covered. You can find out if you're covered by reading your policy or asking your insurer.
Bike Insurance is Cheaper Than Buying a New Bike
The cost of an e-bike can be high. If your e-bike gets stolen, you could be out of pocket for hundreds of pounds. Buying a new e-bike could set you back even more. If you want to keep using an e-bike, bike insurance can provide you with the money you need to buy a new bike or repair your old one.
Some insurers allow you to get a replacement bike immediately if your regular bike is stolen. Others will settle the claim with a replacement bike once they have proof of ownership and have inspected the damaged bike. Once they have settled your claim, they will arrange to have a replacement bike delivered. However, many insurers will settle a claim by sending you the money you need to buy a replacement bike.
Ride with Confidence
Imagine if you were left without a way of getting around for a few weeks. If you were injured and unable to get to work, you'd be facing some tough decisions to survive. While you may be able to claim from your existing insurance, it may not be enough to cover you. Once you've had your bike for a year, you may also have to pay for more of the costs of your claim yourself.
Bike insurance is a great way to ensure you're covered when you need it most. Once you have it, you don't need to worry that you'll be left without a way of getting around if the worst happens.
Bike insurance can cover your injury if you're injured while riding your bike. Depending on the circumstances, you may also be able to claim for loss of your income and travel expenses. You should ask your insurer if you have any further questions.
The Bottom Line
While bicycle insurance isn't a legal requirement, it's a good idea to take it out. If you're unfortunate enough to have your e-bike stolen, you'll be able to replace it quickly. You'll also be protected against any damage caused by theft or accidental damage. If you use your e-bike to get around and don't want the expense of replacing it, you should consider taking out bicycle insurance.
Coast Bike Co. wants to help you enjoy getting from A to B with an electric bike. We have e-bikes for all occasions, and we ship anywhere within the US and Canada. Whether you are commuting to work, going for some exercise in the mountains, or delivering food, our bike will get you there safely and in record time too! If you are interested in buying an e-bike, buy now and enjoy free shipping within the continental US. You can also save $200 when you buy two or more bikes.