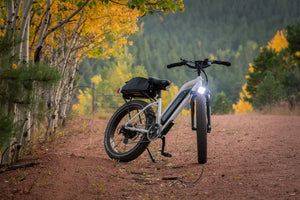 Electric bikes have become immensely popular. The e-bike combines the fun of biking while also having an option to plug in the battery to make it easier. E-bikes are now being used for short commutes, particularly in big cities where using a scooter for a small commute is prohibitively expensive.
E-bikes enable you to travel farther than you'd be able to with a normal bike. One factor that makes e-bikes so efficient is the wider tires they're built with. There is a good reason why the e-bike craze has taken the world by storm. This blog post will focus on why wide tires are the better choice for your e-bike. 
Top Reasons Why Wide Tires Are The Better Choice for E-Bikes
1 - Increased Performance Over Different Terrains
The wider tires that e-bikes are built with make them more stable and easy to control on different types of terrain. Riding an e-bike is a great option for those who would like to bypass the bus or subway and instead ride to work in a green and sustainable way.
E-bikes have much wider tires, which give you better control over uneven terrain. This stability is great for commuters who travel through areas of rugged terrain.
2 - Better Traction
Wider tires provide more traction, making it much easier to ride an e-bike in wet or snowy conditions. Even riding on a light dusting of snow can be challenging for a bicyclist without wide tires. You can run your e-bike in the winter without worrying about sliding all over the place.
Wider tires also provide better traction on dirt and sand. This is great if you want to avoid riding on the pavement and instead ride on a trail.
3 - Improved Comfort During the Ride
The wider tires on an e-bike can make your ride more comfortable, especially if you're going long distances with weight in your "basket." Wider tires are made for a smooth and comfortable ride. They provide a nice cushion, so you'll be less likely to get a sore back or butt from your long commute.
4 - Reliable Braking
Wide tires are heavy and have a larger surface area. This makes them much better at stopping your e-bike in wet and slick conditions. The wider tires provide more traction, which allows for better stopping power.
5 - Less Vibrations on Rough Terrain
Riding over rough terrain is often challenging and tricky for your body. Vibrations from the road can cause discomfort and fatigue, making it more difficult to keep control of your bike. The wider tires on an e-bike dampen these vibrations, making it much more pleasant to ride.
Conclusion
There are many reasons why you should choose wide tires for your e-bike. Next time you're at a bike shop, talk to the experts and get their recommendations based on the type of terrain you'll be riding on most often. If you're in the market for an e-bike, consider purchasing one that is made to be ridden over rough terrain. Buying your e-bikes and parts from a reliable shop is the key to ensuring quality and durability.
If you're looking to purchase an e-bike, you'll be happy to know that there are many models to choose from at Coast Bike Co. Browse our selection of e-bikes and get one for yourself today!