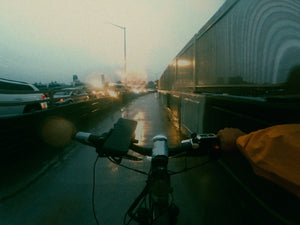 Do you live somewhere where it rains a lot during the winter? If so, you may be wondering whether the rain will affect your e-bike riding habits.
Although the rain may be intimidating if you are a commuter on an e-bike, you can keep cycling through the winter months with the correct information.
1. Wipe Down Your Bike Regularly
The first tip for riding your e-bike in the rain is to wipe down your bike. If you live in a place where it rains often, you probably know that precipitation can cause a lot of buildup on your bike. This buildup can include salt, which can corrode your drivetrain if left unchecked. Wiping down your bike daily is a simple task that can extend the life of your bike.
2. Clean Your Pedals Regularly
Your pedals can get gunked up from everyday wear and tear depending on where you live and how active you are. This buildup can become even more prevalent in the winter as snow and salt often act as abrasives on your pedals. Regularly cleaning your bike is an excellent way to keep it running well for a long time.
3. Wear the Right Gear
Another way to keep cycling in the rain is to wear the proper gear. When the weather is terrible, you should dress for the occasion. For your feet, you should wear closed-toe shoes. For your body, you should wear a waterproof jacket and pants. A good rain jacket or a cycling helmet is a good choice for your head. You can also consider wearing gloves and a scarf, as well.
4. Keep Tires Free from Debris
Keeping your tires free from debris is another way to prevent corrosion. If your tires receive regular exposure to the elements, they can become gunked up with salt and other types of debris. This buildup can also cause your bike to lose air pressure and cause you to ride much more slowly.
5. Pay Attention to Your Bike Chain
Driving through the rain increases the amount of water that your bike receives. This increase in water can be particularly problematic to your chain. The water can cause your chain to rust. You should regularly clean your bike chain to prevent this, especially during the rainy season.
6. Watch Out for Extreme Temperatures
Extreme temperatures can be potentially more dangerous than rain. If you are riding in the rain, you should pay attention to the temperature. In extreme heat, your bike may overheat and not function properly. If you live in a place with extreme temperatures and commute in the rain, you may want to consider your route more carefully.
7. Wear Bike Attires That Make You Visible
Whether you are riding during a rainstorm or clear weather, you should wear something that makes you visible. This can be as simple as wearing bright colors and reflective clothing. If you commute in the rain, it may be a good idea to invest in a reflective vest or consider getting some reflective tape for your bike.
Conclusion
Despite the chilly temperatures, you can still ride your e-bike through the winter. As long as you wipe down your bike, follow the tips above, and wear the proper cycling gear, you will be able to ride safely. 
Coast Bike Co is your go-to source for electric bikes for all occasions and we ship to anywhere within the US and Canada. Whether you are commuting to work, going for some exercise in the mountains, or delivering food (you are the real heros)….hills, traffic, and parking are no longer obstacles with an electric bike. Avoid the hassle and the expensive gas by getting your own electric commuter bike now!