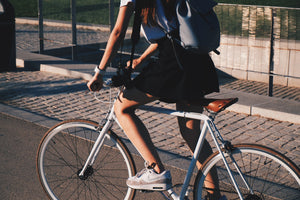 With the pandemic still sticking around, more and more people are looking for exercise methods that they can still enjoy without being in contact with other people. A popular sport that has risen for this risen is cycling. Of course, cycling has been around for quite a while, but only now are more people paying attention to it as a way to enjoy the outdoors, exercise their body, and simply have a good time, all without putting themselves too close to other individuals.
That said, if this is your first time buying a bicycle and you need help making the most out of it, here are some tips we can share with you:
1. Look For a Local Bicycle Shop
The very first thing you should do before you start shopping is to look for a local bicycle shop you can visit. They are the best people to ask if they can recommend a type of bike you should get. Plus, since you're there in person, you can try the bikes you are interested in purchasing to see if it is the best fit for you!
If you don't have any local shops in the area where you live, here is a good way to start your search:
Go to your search engine and look for "bicycle," and then add the name of your city to the search. It's important to do this because the results will be much better if you are searching for bikes in your city. If there are really no hits, then feel free to check for any online bicycle shops that can deliver to you.
2. Purchase Some Bike Parts and Kits
Once you've found a bike shop and you're ready to start shopping, you should also know that it's good to buy some bike parts and kits. This will help you as you are putting together your bike, if you want to upgrade in the future, or simply purchase replacements in case something on the bikes breaks. 
Apart from bicycle parts specifically, be sure to purchase other things like a bicycle helmet, cycling wear, bicycle lights, and necessities. These things will ensure that not only are you enjoying a comfortable bike ride, but also a safe one. Remember, safety should always be your priority, so don't skip the safety kits and pieces.
3. Make Sure the Bicycle Is Comfortable to Use
When you're purchasing a bicycle, make sure it is comfortable to use. If you're going to use it for exercise, then you shouldn't be stressed out by uncomfortable handlebars or seats. See if you can move the handlebars, adjust the seat, and see if you can kick the pedals to make sure it's the perfect fit for you. Since your body will have to be in this position for a prolonged period of time, it's important that it is comfortable.
If, by any chance, the bicycle isn't comfortable, don't think that you must deal with it. You'll only hurt your biking experience, so be sure to invest in parts that are comfortable. For example, if you find that the saddle isn't comfortable, purchase one that is!
Conclusion
With the steps mentioned above, it is guaranteed that you can enjoy your bicycle. You can go on long bike rides with your spouse, your kids, and even your dog. Plus, you can also share this with other people who also have a passion for it. But of course, if you want to ride solo, you can easily do that too! Just make sure to purchase high-quality bicycles that fit your needs to maximize your biking experience.
 Check out what we have in store today to get your biking activity started!