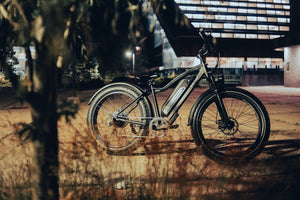 Nowadays, thieves are skilled at stealing anything. Indeed, nothing could be safe and secure enough. The notion applies to electric bicycles (e-bikes) as well! Additionally, because the e-bike is typically more expensive than the traditional bike, there's an increased risk of theft. 
Whether you're commuting to work, going out for errands, or attending an event, know that you can keep your e-bike safe and secure. Read on for our tips for deterring e-bike thieves!
Know Where to Park It
If you ride your e-bike on a regular or commuting basis, inquire with store owners or facility managers about indoor storage for your e-bikes. Some workplaces and shopping malls have installed specialized bicycle and electric bicycle storage areas, as well as a comprehensive charging station, to promote a more secure trend. Alternatively, keep an eye on your electronic bicycle at all times. 
A bike rack or bollard can be found in almost every commercial area with a high volume of vehicular and pedestrian traffic. You could easily find an outdoor bike rack and lock your e-bike for short-term parking. When you lock your e-bike in a dark alley or laneway, thieves can easily pick the lock and steal your e-bike without drawing attention to themselves. Alternatively, for added security, lock it in bike lockers or lockups, especially if you intend to leave it for more than two hours or during the day. 
At night, store your electric bike in the garage or on the ground floor of your apartment building. If you can't bring it inside, secure it near high-traffic areas like building entrances. 
Secure Your E-Bike with Locks
Investing in a high-quality lock can deter or halt thieves, allowing them to move on to a less secure target. So, make certain that your lock is sufficiently deterrent. 
Locks come in a variety of materials, sizes, and shapes, resulting in a range of security levels. U-locks, also known as D-locks, are more durable and secure than cable locks that can be cut with a plier. Other types of locks, such as chain locks, folding locks, wire locks, and smart locks, are easily manipulated with hydraulic shears and crowbars. In general, a high-quality lock with increased hydraulic resistance will keep your electric bike secure. In U-locks, a straight or cross keyway is less secure against theft than a crescent or ring keyway. 
It is believed that locks can serve as a deterrent to thieves. Thieves will go to great lengths to steal electric bikes, even if they are locked. Consider using multiple locks to secure both the front and rear wheels of your electric bike to a U-rack. A U-lock secures the triangle frame and rear wheel to a rack or other object, while another secures the front wheel and frame. Double or triple locks on your e-bike will deter thieves for a longer time. Secure your e-bike's removable components and, if possible, bring your battery with you. 
Use a GPS Tracker
A GPS tracking system can be hidden in your e-bike's battery, saddle, or light. This aids in the prevention of theft and alerts cyclists when their e-bikes are moved. The phone vibrates and sounds an alarm when the e-bike is stolen or removed from the vehicle. It can also assist you in locating and returning your e-bike. 
Configure an Alarm 
Alarms, like locks, serve to deter burglars. To deter thieves, install a loud anti-theft alarm inside the battery enclosure or on other parts of your electric bicycle.
Conclusion
At the end of the day, you want to be able to say that you've done what you could to keep your e-bike safe and secure. After all, security guards, parking lots, and CCTV cameras can only do so much. With these tips in mind, make sure to put them into practice!
Coast Bike Co. is here to offer you quality
commuter e-bikes
and everything you need to keep them safe and secure. With us, you can finally get around easily and effortlessly in a knick of time. Shop our collection today!