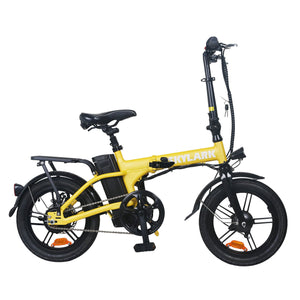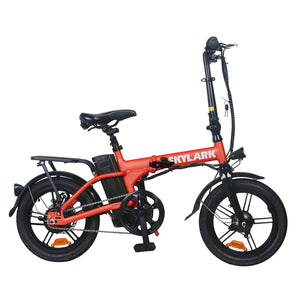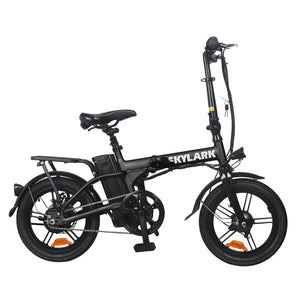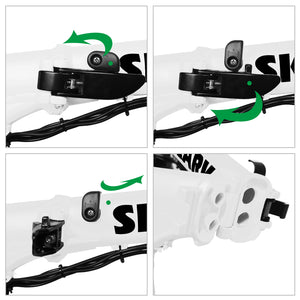 NAKTO Skylark Folding Electric Bicycle 16''
The Nakto Skylark Folding Bike is a stylish city bike, featuring a classic folding frame with fenders and 16-inch spoked rims. The frame is made of high-strength carbon steel with a premium paint finish. The bike comes with a rear luggage rack where you can strap your bag.This bike is designed for daily mobility and can be easily driven by anyone. It is perfect for going to work, school, or doing errands, making the Nakto Skylark Electric Bike the perfect city bike for everyday commuting.
The Nakto Skylark Electric Bike measures 51 inches in length and 38 inches in height, with a seat height of 29 inches to 33 inches. The folded bike measures 29" inches long and only 24 inches high, so it fits inside most car trunks. The bike comes with the battery, a charger, a mini-tool kit, and a user manual.

The bike comes with a twist throttle and a pedal-assist that makes each ride a breeze. You will love riding it on congested streets and city paths. It is perfect for sightseeing, roaming parks, and visiting places with plenty of shops. The Nakto Skylark Folding Bike is available in gorgeous black, red, yellow, and white colors.
The Nakto Skylark Folding Bike is a practical choice for anyone travelling in dense traffic, featuring a powerful 36-volt, 250-watt hub motor that quickly accelerates on smooth pavement. This bike has compact dimensions, so it is easier to maneuver around and access alleyways. The folding frame makes it portable and easy to store, so you can bring this bike anywhere. You can fold the bike and place it on the trunk of the car or SUV. 

Nothing beats a folding bike in terms of practicality. Have a stylish ride for every day and for leisure with the Nakto Skylark 36v Folding Electric Bike! This beautiful electric folding bike features a compact frame and 16-inch rims that look stylish at any angle. It has a robust 36-volt electric motor made for paved roads and off-road paths in the city. The electric city bike comes with general-purpose tires and a sizable 10 amp/hour battery for traveling long distances. It is among the best folding bikes you can buy. The Nakto Skylark Bike is the ideal ride for going to school or work. This electric folding bike is perfect for working moms and dads, students, office workers, and city dwellers.
Size: 16" x2

Frame: high-carbon steel

Battery: 36V 10AH Lithium

Battery Charging Time: 4-6 hours

Motor: 250W brushless Rear Hub

Payload: 180 lbs

Max Speed: 16 MPH
Range: 22~28 Miles

LCD display
Shipping

Please note that the shipping policy varies by brand. Make sure you are referencing the right brand. Shipping policies can be found

HERE

Returns

Please note that the return policy varies by brand. Make sure you are referencing the right brand. Return policies can be found

HERE