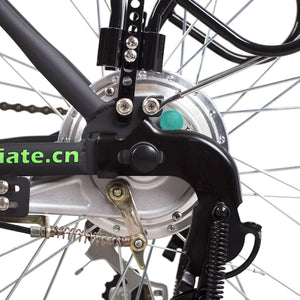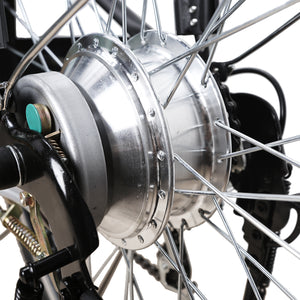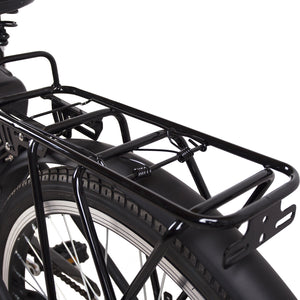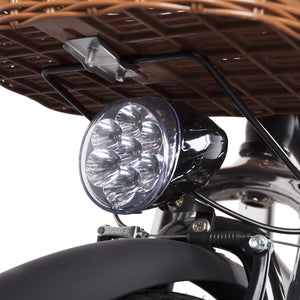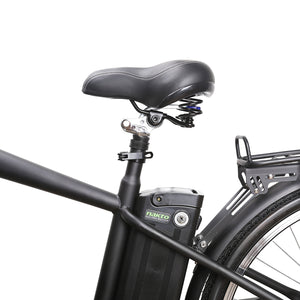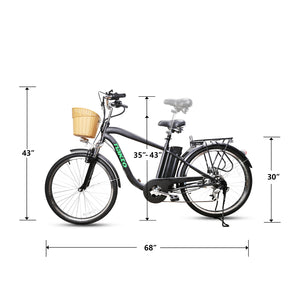 NAKTO Camel Step Over City Electric Bicycle 26" with Plastic Basket
Do you need a capable electric bike for commuting to work or school? Are you looking to have something practical for high-traffic environments where roads are always blocked with cars? Electric bicycles are an excellent choice for transport in the city because you can travel to your destination faster than using a car in highly-congested traffic. Newer models of electric bicycles are more powerful, with better components and motors, so you can bring them anywhere without worry about losing range.
Have a stylish ride for every day and for leisure with the Nakto Camel Men 36v Cruiser Electric Bike! This beautiful electric road bike features the timeless beach cruiser style frame with a robust 36-volt electric motor made for paved roads and off-road paths in the city. The electric city bike comes with gorgeous 26-inch spoked rims with sleek road tires and a sizable 10 amp/hour battery for traveling long distances. It is among the very few inexpensive electric bikes with a front fork suspension. The Nakto Camel is the ideal ride for going to school or work. This electric road bike is perfect for working moms and dads, students, office workers, and city dwellers.
It is not hard to love riding the Nakto Camel Cruiser Bike, featuring a comfortable beach cruiser frame and a powerful 250-watt hub motor that quickly accelerates smooth pavement. It is stable and very comfortable to ride. The bike is equipped with large 26-inch rims and a front fork suspension, so you ride smoothly over bumps and potholes frequently seen on roads.
Size: 26" x 1.75
Frame: high-carbon steel
Battery: 36v 10Ah lithium
Battery Charging Time: 4-6 hours
Motor: 250w brushless Rear Hub
Payload: 250 lbs
Max Speed:16~19MPH
Range: 22-32 Miles with PAS
Derailer: Shimano 6-speed-gears
LED Display
Basket
Shipping

Please note that the shipping policy varies by brand. Make sure you are referencing the right brand. Shipping policies can be found

HERE

Returns

Please note that the return policy varies by brand. Make sure you are referencing the right brand. Return policies can be found

HERE