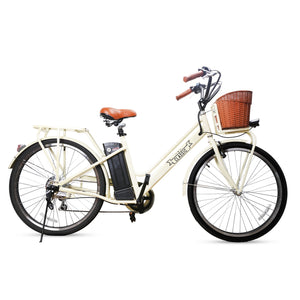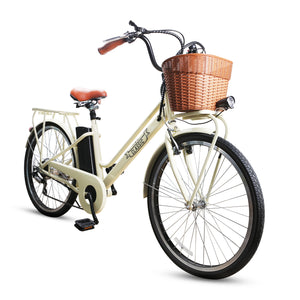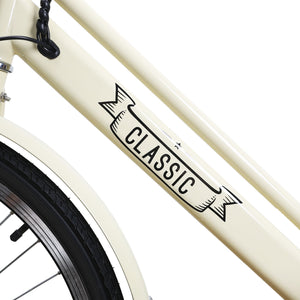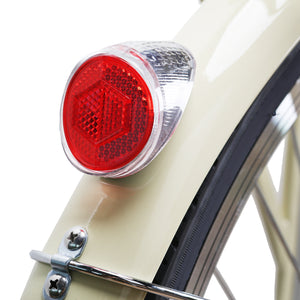 NAKTO City Electric Bicycle Classic 26"
The City Electric Bike Nakto Classic takes a traditional European style handle bar bike, and makes it one of the World's best electric commuter bikes. With a wonderfully balanced 68 lbs bike frame, this urban e-bike features a lithium powered long range (20 mile max range) battery fueled by a rear hub 36V 250W motor. The Nakto Classic City electric bike is ideal for people looking for a weekend stroll along Pacific boulevard or looking for a way to beat the morning rush hour. With public transport prices rising and urban environments getting more densely populated, electric bikes have helped find commuters a newer, cost-efficient method of saving money in the long term and shaving hours of commuter time.
The bike comes with a thumb throttle and a pedal-assist that makes each ride a breeze. You will love riding it on congested streets and city paths. It is perfect for sightseeing, roaming parks, and visiting places with plenty of shops. The Nakto Classic Bike is available in a gorgeous gloss cream finish. See the sights and get to your work and school. The Nakto Classic Electric Bike is recommended for anyone who needs a casual bike for everyday use. This gorgeous bike features a sleek step-through frame, which is very comfortable to ride that eases weight off the shoulders. The frame makes it easy to get on and off the bike, which is useful for routes with plenty of stops. The bike comes with a uniquely beautiful gloss finish that gives it a clean, modern look.
Have a reliable and stylish ride for every day with the Nakto Classic 36v Cruiser Step-Thru Electric Bike! This beautiful electric road bike features the timeless step-through, cruiser-style frame with a robust 36-volt electric motor made for paved roads and off-road paths in the city. The electric city bike comes with gorgeous 26-inch spoked rims with sleek road tires and a sizable 10 amp/hour battery for traveling long distances. It is among the best $800 electric bikes you can buy. The Nakto Classic is the ideal ride for going to school or work. This electric road bike is perfect for working moms and dads, students, office workers, and city dwellers.
Size: 26" x1.75
Frame: high-carbon steel
Battery: 36V 10AH Lithium
Battery charging time: 4 hours
Motor: 250W brushless Rear Hub
Payload: 250 lbs
Max speed: 16 MPH
Range: 22-32 Miles with PAS
Derailer: Shimano 6-speed-gears
LED display
Basket
Shipping

Please note that the shipping policy varies by brand. Make sure you are referencing the right brand. Shipping policies can be found

HERE

Returns

Please note that the return policy varies by brand. Make sure you are referencing the right brand. Return policies can be found

HERE